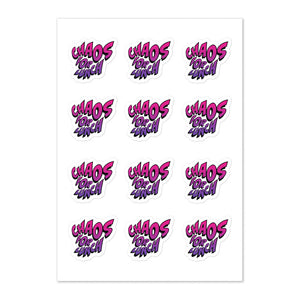 ---
Chaos For Lunch - Boom! Pop Krak! - Sticker Sheet
These glossy stickers are designed just for you. Give your favorite items, like a notepad, laptop, or phone case an extra glow and personal touch.
Chaos For Lunch is written in the officially licensed Biff Bam Boom font. Biff Bam Boom is a comic and hand display font family designed by John Roshell. John Roshell is an award-winning graphic artist who has designed iconic logos from Angry Birds to Black Panther and Daredevil.
Each sticker is approx. 1.75 x 1.75 inches (4.5 x 4.5 cm)
Sticker Sheet is approx. 8.27 x 5.83 inches (21 x 14.8 cm)
• Film type: Promotional Monomeric PVC (US), MPI 3000 Gloss HOP (EU)
• 0.12 inch (0.3 cm) white sticker border
• Glossy finish
• Fast and easy application
• 2–3 year durability
•
perfect for indoor use
Don't forget to clean the surface before applying the stickers.
Free Shipping on orders of $50 or more
---